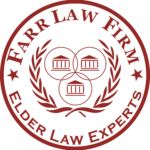 Farr Law Firm is excited to partner with Retirement & Medicare Together to serve the Medicare needs of our clients.
We are working with Retirement & Medicare Together because of their knowledge, experience, and dedication to client service.
Why review your Medicare health plan every year?
Start with a FREE Medicare review
I'm New To Medicare
Help you enroll into Medicare

Sign you up for the right plan

Help you every step of the way
I'm Retiring
Find the right plan for you

We're always here to help
"If I didn't review my plan I never would have known one of my medications was going to cost me $11,000 next year. Thankfully, Medicare Together was able to find a plan that covered all my medications."
"I didn't know that I was going to be charged extra for my Part B and Part D because of how much money I made. Thankfully, my advisor helped me and now we are saving over $600 a month on our premiums alone."
"I was researching Medicare on my own. All the information was confusing and conflicting. I didn't know what to do. I was introduced to RMT and they took the time to explain all my options so I could understand. I felt so much better because now I understood what needed to be done and I have someone to go through it with me each year.
What could happen if you don't review your plan every year?
One or some of your medications may not be covered.
Your company may increase your cost on certain medications.
Your doctor could no longer accept your plan, meaning you will pay higher costs or need to change doctors.
You may miss out on the benefits you are entitled to.
You could miss out on the opportunity to lower your Part B premium.
You may only have one chance this year to review your plan.
Schedule your FREE Medicare review today!
Attention:
By calling the 800 number, completing the form, or scheduling a call you are agreeing to the Insurance Disclosure & Consent form below. Click the button below to view the Insurance Disclosure & Consent form.
CONNECT WITH RETIREMENT & MEDICARE TOGETHER IN THREE WAYS